Looking for 'chain link fence installation near me'? This is where Northern Fence can assist. Our fence professionals can help you with your chain link fencing needs.
Northern Fence provides chain link fence installation for home and business owners throughout Appleton, Oshkosh, Green Bay and the Fox Valley area. We specialize in installing the proper chain link fencing specifically for your garden, driveway, parking lot, field, backyard, and grassy areas. Our fence experts work with you to ensure your chain link fence installation is an easy experience, and best of all, our fence estimates are free!
Chain Link Fence Installation – Galvanized Fences
Our galvanized steel fence are built with quality, so that you can ensure that your pets stay safely within your fenced-in area. Galvanized fences are an excellent choice as they are installed to protect against corrosion, lasting for many years. The installation of our galvanized fences will result in a adaptable fence that is able to withstand outdoor elements while having a seamless appearance.
Chain Link Fence Installation – Aluminum Fences
Our aluminum fences are likewise installed with quality in mind. Aluminum chain link fence installation over the installation of other types of fences has an advantage because of the corrosion resistance, light appearance and low maintenance required. Aluminum fences resist impact and are an overall more durable fence than many other types of fencing options.
---
Free Fence Estimates
Our chain link installations begin with our free fence estimate! If you are in need of chain link fence installation services, please reach out to our fence professionals today and we will discuss with you your fencing needs
---
Our Reviews
About Northern Fence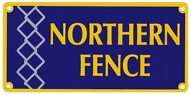 The fencing contractors at Northern Fence have provided high-quality fence services to the Appleton area and surrounding Fox Cities for over 30 years. As one of the most reliable fencing companies in Appleton, you can always expect the best service and the most affordable prices from us for your fencing project. Contact us today to get a FREE Appleton fence installation estimate!