Green Bay Fence Installation
Quality Fencing For Your Home
Fence Installation in Green Bay, Wisconsin
Green Bay is known for being the smallest city to host a National Championship NFL team. The Green Bay Packers are also widely recognized for being fully owned by their fans. Among the Packers, Green Bay has many other notable attractions that include the Green Bay Gamblers (USHL), Green Bay Phoenix (NCAA), Heritage Hill State Park, and National Railroad Museum. All of this is why it is seen as one of the best family-friendly places to live in Wisconsin. As one of the most reliable fence companies in Green Bay, you can always expect the best fence installation, detail-oriented work, and affordable prices from Northern Fence.
---
Steps To Planning Your Fence
Establish Reason For Fence
The first step is to figure out your need for a fence, for privacy, safety, having boundaries, or security. There are several reasons to build a fence, and finding the purpose will help you choose fencing materials later in the process.
The reason for the fence will help you in choosing the type of fence you will need. For example, if you want to keep your dog in, you have more room in your choice of materials than if you needed privacy from a neighbor.
Determine Size and Budget
Your next step will be to decide on an estimated range for the size of your fence and the budget you feel comfortable with. To achieve this, it is important to measure the boundaries of your yard and ensure it matches your original home's paperwork. The size of the fence you need will help you figure out what type of fence you can afford.
Choose Your Material
The next step is to find the fencing material that works for you.
Wood Fence: Our wood fencing is made with beautiful red cedar fencing boards. Every red cedar board has its unique color, giving our cedar wood fences a different look every time. These fences are built to last, with the red cedar being very durable and weather resistant.
Vinyl Fence: Vinyl fences, sometimes known as PVC fences, is the type of fence for people who don't want to worry about having to maintain their fence. Vinyl fencing requires virtually no maintenance and will outlast some other types of fencing.
Picket Fence: Our picket fences are made with cedar posts and rails. These fences are very durable and built to last.
Chain Link Fence: Chain fences are perfect for people who want to have a strong and durable fence to control their pets and add some safety and security to their home at a reasonable cost.
---
Green Bay Fence Installation Cost
The average cost for a fence installation in Green Bay is between $13 and $25 per foot, with most fencing jobs costing around $1,580 and $3,418 depending on the type of fencing materials chosen. The materials alone making up around 70% of your total price.
Minimum: $815
National Average Cost: $2,711
Average Range: $1,580 and $3,418
The cost of the fence ultimately depends on the material you chose for the fence.
Wood Fence Cost
A popular choice in fencing is wood, and it costs between $1,950 and $4,050 to install. Most who choose to go with a wood fence is spending around $2,755.
Vinyl Fence Cost
Vinyl fencing costs between $3,750 to $5,400 to install with an average price of $25 to $36 per linear foot. The vinyl materials typically cost double the price of wood but require less maintenance and last longer.
Picket Fence Cost
A split-rail fence will typically cost between $15 and $25 per linear foot or around $1,500 to $2,500 per 100 feet of fencing. The final price is influenced by the number of rails you use. You can expect to add $1 to $4 per linear foot, per rail.
Chain Link Fence Cost
Chain link fence installation costs between $15 and $25 per linear foot, with most ranging from $2,250 to $3,750 on average. Chain link fencing is very strong and durable.
Iron Fence Cost
An iron fence costs $30 to $50 per linear foot, with prices ranging from $4,500 to $7,500.
---
About Northern Fence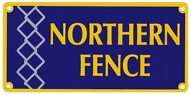 Our experienced Green Bay fencing installers have proudly served the Green Bay area and surrounding Fox Cities for over 30 years. Northern Fence is one of the most reliable fencing companies in Green Bay. We will always utilize superior fencing products and services, quality workmanship, close attention to detail, and prices you can afford for your Green Bay fence installation.
---
Restaurants in Green Bay, WI:
Hotels in Green Bay, WI:
Home Inspectors in Green Bay, WI:
Our Reviews