Fence Installation in Appleton, Wisconsin
Appleton, WI is most famous as the boyhood town of Harry Houdini, the famed magician. Among Appleton's many notable attractions include the Fox Cities Performing Arts Center, the Hearthstone Historic House Museum, the Gordon Bubolz Nature Preserve, and the Fox Cities Stadium. All of this makes for a very exciting place to live. As one of the most reliable fence companies in Appleton, you can always expect the best fence installation from Northern Fence. 
---
Steps To Planning Your Fence
Establish Reason For Fence
The first step is to figure out your need for a fence, for privacy, safety, having boundaries, or security. There are several reasons to build a fence, and finding the purpose will help you choose fencing materials later in the process.
The reason for the fence will help you in choosing the type of fence you will need. For example, if you want to keep your dog in, you have more room in your choice of materials than if you needed privacy from a neighbor.
Determine Size and Budget
Your next step will be to decide on an estimated range for the size of your fence and the budget you feel comfortable with. To achieve this, it is important to measure the boundaries of your yard and ensure it matches your original home's paperwork. The size of the fence you need will help you figure out what type of fence you can afford.
Choose Your Material
The next step is to find the fencing material that works for you.
Vinyl Fence: Vinyl fences, sometimes known as PVC fences, is the type of fence for people who don't want to worry about having to maintain their fence. Vinyl fencing requires virtually no maintenance and will outlast some other types of fencing.
Wood Fence: Our wood fencing is made with beautiful red cedar fencing boards. Every red cedar board has its unique color, giving our cedar wood fences a different look every time. These fences are built to last, with the red cedar being very durable and weather resistant.
Wrought Iron Fence: Wrought iron fences, though a high-end choice, can be on the more expensive side. However, the strength of the fence means that there is less maintenance required, and last longer when compared to other fencing options.
Chain Link Fence: Chain fences are perfect for people who want to have a strong and durable fence to control their pets and add some safety and security to their home at a reasonable cost
Picket Fence: Our picket fences are made with cedar posts and rails. These fences are very durable and built to last.
Appleton Fence Installation Process
Fence Estimator Visits
Once you begin the process of installing your fence, an estimator will visit your house's exterior. The estimator will use a type of measuring device to measure the run of the area. They complete this to confirm that everything matches up: the material, the property line, and the style of a fence planned.
Setting Up For Installation
The next step is to prepare everything necessary to start the installation, this can include contracts and maybe a fencing permit if required. If not taken care of properly then the installation may be delayed.
From there, someone will come out to mark your yard to ensure that no utility lines are in the way when they start to dig. If this is not done, it can become extremely dangerous for the fence installers.
Fence Post Installation
After a date and time have been set to start the installation, a crew of fence installers will come out and dig post holes and set the posts in concrete. Do not be alarmed if the fence posts look too high, as they are often cut down to size later on.
End of Fence Installation
Once the posts have settled about a week later, the crew will come out again and install the horizontal pieces of the fence, the fencing material, gates, and everything else that finishes up your fence.
---
Appleton Fence Installation Cost
The average cost for a fence installation is between $13 and $25 per linear foot, with most people will spend around $1,580 and $3,418 depending on the type of fencing materials that have been chosen. The materials alone making up around 70% of your total price.
Minimum: $815
National Average Cost: $2,711
Average Range: $1,580 and $3,418
The cost of the fence ultimate depends on the material you chose for the fence:
Wood Fence Cost
A popular choice is a wood privacy fence, and it costs between $1,950 and $4,050 to install, most homeowners spending around $2,755.
Vinyl Fence Cost
Vinyl fencing costs between $3,750 to $5,400 to install with an average price of $25 to $36 per linear foot. The vinyl materials cost double the price of wood, but typically last double the time as well, and also requires less maintenance.
Wrought Iron Fence Cost
A wrought iron fence costs $30 to $50 per linear foot, with prices ranging from $4,500 to $7,500. Despite the strength that an iron fence delivers, routine maintenance is required to ensure corrosion is kept at bay.
Chain Link Fence Cost
Chain-link fence installation costs between $15 and $25 per linear foot, with most ranging from $2,250 to $3,750 on average.
Picket Fence Cost
A split-rail fence will typically cost between $15 and $25 per linear foot or around $1,500 to $2,500 per 100 feet of fencing. The final price is influenced by the number of rails you use. You can expect to add $1 to $4 per linear foot, per rail.
---
About Northern Fence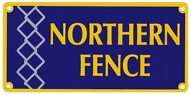 Northern Fence has provided high-quality fence services to the Appleton area and surrounding Fox Cities for over 30 years. As one of the most reliable fencing companies in Appleton, you can always expect the best service and the most affordable prices from us for your fencing project.
---
Hotels In Appleton, Wisconsin
Restaurants In Appleton, Wisconsin
Our Reviews