Quality Vinyl Fence Installations
Vinyl fences, sometimes known as PVC fences, are a type of fence for people who don't want to worry about having to maintain their fence. In fact, vinyl fencing requires virtually no maintenance, with no painting or staining requirements, and will outlast wood fencing. PVC fences are available in many different styles, heights and colors. Colors include white, tan, gray, and wood grain, although white fences are most popular. If you have questions regarding fence colors, please give our vinyl fence contractors a call today at 920-731-9009.
Benefits of Vinyl Fencing:
Requires little to no maintenance
Outlasts wood fencing
Multiple color options available
Lots of customization options and styles available
Why Choose Vinyl Fencing?
Vinyl fence installations are environmentally-friendly and will give you years of maintenance free fencing while still making your yard look beautiful. Not only that, but vinyl fencing serves as an excellent privacy fence and will protect your young children and pets by keeping them safe in your front or back yard. Give our vinyl fence contractors a call today to talk about the style of fence that is right for you. Best of all, our fence estimates are FREE!
Vinyl Fencing Installation Types
Privacy Fence with Gate
Fence with Full-Lattice Style
Vinyl Fence with Gate
Picket Fence with Scalloped Style
---
Types of Vinyl Fences
Private Vinyl Fence
These provide ultimate protection and privacy for your children and pets. Privacy fences work well around the perimeter of your back yard, and are a popular choice for containing pool areas, lawns, gardens, etc. They are fully private, having no gaps between the pickets. Although white is the most popular color option, you can get a style/color that is tan, gray, ivory, or a natural tone that mimics real wood grain.
Private vinyl fence installations are just like their wooden counterpart. Here at Northern Fence, our fencing contractors build them with no gaps in between the boards. Additionally, there are decorative options available, such as diamond or square style vinyl or a lattice top to give your fence an added elegant look. These fences are also available in different heights, depending on the level of privacy desired. Contact our fencing contractors for a privacy vinyl fence, and to discuss customization options. We can also install privacy wood fences.
---
Semi-Private Vinyl Fence
Semi-private vinyl fences are for people who want to have at least some privacy, but still also allow some sunlight and air to get through their fence. This style of fence is built the same way as private fencing, although with a small gap between each vinyl board. The gap allows more air and sunlight to pass through. Overall, though, the semi-private fence still provides much more privacy when compared to a picket installation.
Semi-private vinyl fences can also be customized to suit your specific needs. The gaps between the boards can be different sizes and the boards are available in various widths and styles according to your preference. A semi-private vinyl fence can also be built by our fence contractors in any height you choose. For more information, please contact us at 920-731-9009.
if you're looking for a balance of privacy and airflow, or prefer the look of being able to see somewhat through the fence, then a semi-private fence is going to be your best bet! Enjoy the beauty of semi-private fence with a unique lattice design on top, or with other decorative styles. These fence styles also come in white, tan, gray, or even darker colors, depending on your preference. Just speak with one of our fencing experts and we can help you choose the style that will work best for your property.
---
Picket Vinyl Fencing
This classic fence type is a favorite among homeowners. The decorative, timeless style of a vinyl picket fence looks good in both your front and back yard, and complements a lawn and garden well. In addition to looking nice, a picket fence will still safely contain children and pets.
Picket vinyl PVC fences are built the same way their wooden counterpart is. The pickets are available in multiple sizes and styles, and we place them to be different lengths apart. This style of fence in available in different heights and can be customized according to your preferences.
Our vinyl fence contractors can assist with choosing the vinyl size type and style to make your yard look stunning! Just give us a call today.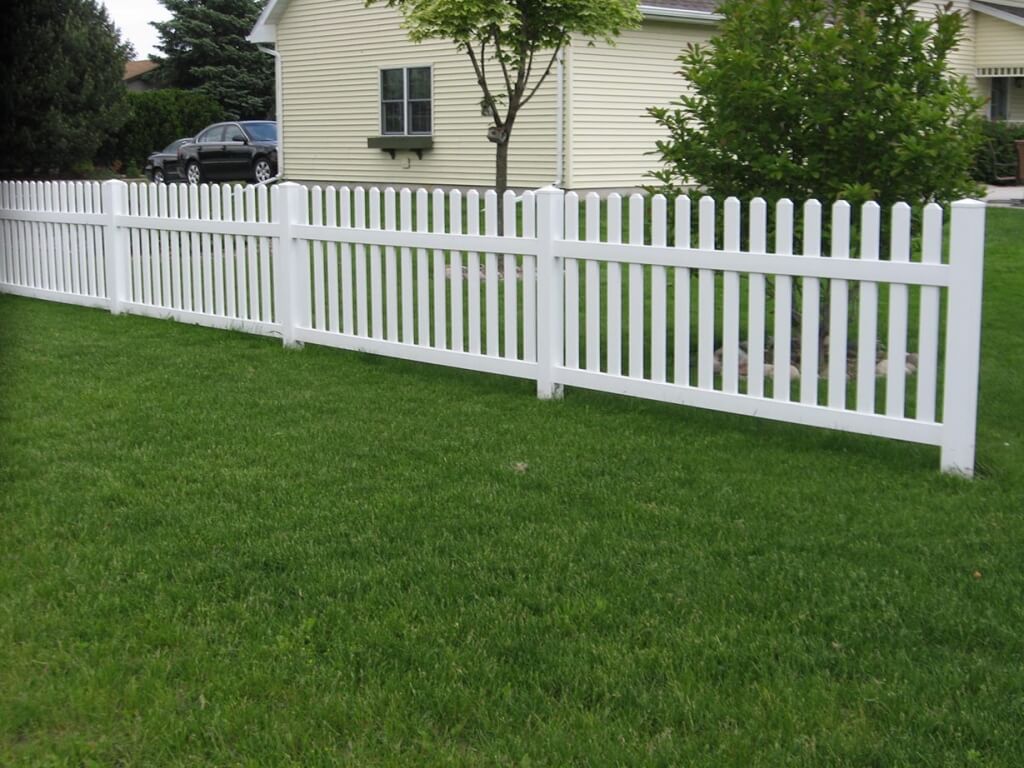 ---
Post & Rail Fencing
If you live in the country or own farmland, you may want to opt for post and rail fencing. This vinyl fence type is quite common for containing farm animals.Depending on your needs, you can choose 3-rail and 4-rail styles to contain horses and other livestock, or you can choose 2-rail for a decorative look.
The simplicity and country-feel of post and rail fencing will add much character to a large lawn. Post and rail fencing will also look appealing lining your driveway, an orchard, or large stretches of land where your animals are grazing.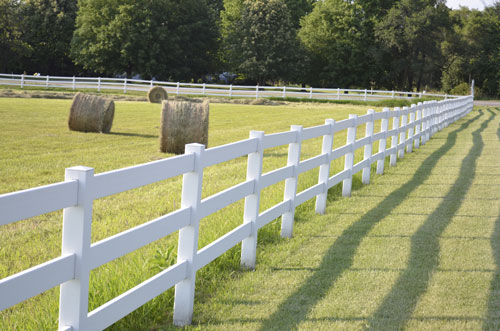 ---
Free Vinyl Fence Estimates
Our vinyl fence installations and replacements begin with our FREE fence estimate! If you are in need of vinyl fencing services, please reach out to our experts today and we will discuss with you your fencing needs. Northern Fence is proud to have served the Fox Valley community for many years since we first opened in 1975, and we are looking forward to serving our valued customers for many more years to come! Our fence installation experts will even come on during the winter months as well! Please read our testimonials and reviews, which demonstrate our commitment to quality and excellence in the work that we do.
---
Vinyl Fencing FAQs
What do I need to know prior to buying/having a vinyl fence installed?
You'll want to consider a price range that you can afford, that doesn't sacrifice quality. Ensure that the vinyl material is of high quality with professional-grade ingredients. You'll also want to factor in a reputable manufacturer as well as ease of installation. Finally, you'll need to choose the color, height, and style of your vinyl fence that will best complement your landscape.
Do vinyl fences require maintenance?
Perhaps one of the best aspects of choosing a vinyl fence is that they require little to no maintenance at all. You will not need to worry about painting or staining your fence. Since vinyl is nonporous, if the surface of the fence ever gets dirty, you can usually just spray it with a hose to keep it looking clean and fresh.
How well do vinyl fences hold up?
Vinyl fences will last for many years, and will typically last longer than a wood fence. (Wood is much more susceptible to rotting, insects, warping, and fading, and typically needs to be replaced every 10-20 years). Vinyl fences may need to be occasionally hosed down,however, you shouldn't have to get your vinyl fence replaced for approximately 20-30 years.
Are vinyl fences durable?
Yes! Vinyl fences are a very durable fence choice. Not only do they last longer than wood fences, they are resistant to fire damage and insect damage. If you opt for a vinyl fence, you will also enjoy the benefits of a fence that doesn't rot, blister, develop fungus, or split/crack due to age or weather.
Is vinyl fencing expensive?
Vinyl fencing can get expensive. Some factors that affect cost include: fence design, color, whether gates are required, the height desired, the slope of the land, permits, clearing of trees, stumps, and bushes, and the removal of the old fence. For example, expect a large, tall privacy fence to cost more than a shorter, picket fence. Although vinyl fencing is pricey (when compared with wood), it lasts up to two to three decades, and the maintenance is quite low, making it a great investment that pays for itself.
---
Our Reviews